FOIA Gallery 2019
Introduction to the Freedom of Information Act
The Freedom of Information Act establishes a legal right for individuals to obtain records in the possession of government agencies. The FOIA is critical for the functioning of democratic government because it helps ensure that the public is fully informed about matters of public concern. The FOIA has helped uncover fraud, waste, and abuse in the federal government.
A hallmark of the new surveillance measures proposed by various government agencies is their disregard for public accountability. As the government seeks to expand its power to collect information about individuals, it increasingly hides that surveillance power behind a wall of secrecy. Congress has long recognized this tendency in the Executive Branch, and sought to limit government secrecy by creating legal obligations of openness under the FOIA and the Privacy Act of 1974. EPIC has used these open government laws aggressively to enable public oversight of potentially invasive surveillance initiatives.
EPIC's FOIA litigation over the past year has resulted in disclosure of critical information about the activities of the government. EPIC's litigation has also generated case law that benefits FOIA requesters and the open government community across the country.
Previous EPIC FOIA Galleries were published in 2001, 2002, 2003, 2004, 2005, 2006, 2010, 2011, 2012, 2013, 2014, 2015, 2016, 2017, and 2018.
For more information about EPIC's FOIA work, see EPIC: Open Government, EPIC: FOIA Cases, EPIC: Open Government Litigation Manual, and FOIA.ROCKS.
EPIC's FOIA Work in 2018-2019
For EPIC's Open Government Project, 2018-2019 was a year filled with great success stories. Through vigorous and effective litigation, EPIC maintained its record as a champion for a more open and transparent government. In 2018, EPIC obtained formerly secret records from government agencies including the FTC, DHS, TSA, CBP, DOJ, and National Archives and Records Administration (NARA).
A 2018 report from the TRAC FOIA Project shows that EPIC is among the nation's leading FOIA litigators, ranking fifth among nonprofit and advocacy groups nationwide. Last year EPIC filed eight FOIA lawsuits, including a second lawsuit to obtain President Trump's tax returns (EPIC v. IRS II).
EPIC Obtains CPB Documents Detailing Scramble to Implement Flawed Facial Recognition Program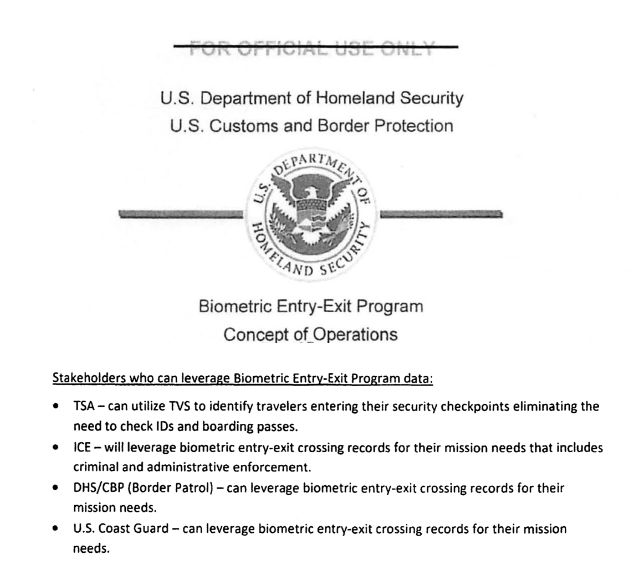 In response to EPIC's Freedom of Information Act request, U.S. Customs and Border Protection released 346 pages of documents detailing the agency's scramble to implement its flawed Biometric Entry-Exit system, a system that employs facial recognition technology on travelers entering and exiting the country. The documents describe the administration's plan to extend the faulty pilot program to the Transportation Security Administration, Immigration and Customs Enforcement, and the Coast Guard. The released information also includes a memorandum of understanding that shows that there are no limitations on how partnering airlines can use the facial recognition data collected at airports. The documents obtained by EPIC were covered in-depth by Buzzfeed.
EPIC Obtains Communications Between Facebook-FTC About 2011 Consent Order Showing FTC's Failure to Enforce the Order

As a result of Freedom of Information Act lawsuit EPIC v. FTC, EPIC received communications between the Federal Trade Commission and Facebook related to the company's compliance with the 2011 Consent Order, including communications about the biennial assessments required under the order. The documents reveal the FTC's failure to act on evidence that Facebook violated the consent order by not focusing on this evidence in its enforcement of the order. Even when the FTC did see evidence of possible violations, widely-reported by Facebook and subsequently complaints by EPIC and others, the Commission did not take decisive action and use its specific legal authority to oversee Facebook. Instead, the FTC provided gentle reminders to Facebook about the company's obligations under the order and amiably inquired about these possible violations, often taking Facebook's word at face value without additional follow up inquiry. In 2015, Facebook discovered that Cambridge Analytical illicitly harvested data of millions of Facebook users without their consent. None of the documents released indicate that Facebook notified the Commission of this finding during that time period—a clear violation of the consent order. The 2017 Assessment, conducted by third party auditor PwC, also erroneously certified that the privacy controls were operating with "sufficient effectiveness" when, in fact, Facebook knew about issues surrounding data collection by third-party app developers and never informed the FTC of this issue.
EPIC Obtains Kavanaugh E-mails on Surveillance Programs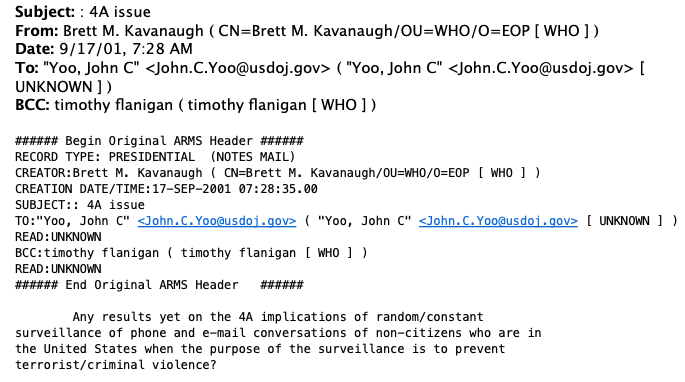 In response to Freedom of Information Act lawsuit EPIC v. NARA, the National Archives and Records Administration has released hundreds of e-mails about Justice Brett M. Kavanaugh's role in controversial White House surveillance programs when he was in the White House Counsel's office after 9-11. Some of these e-mails include correspondences between Kavanaugh and John Yoo, architect of the warrantless wiretapping, about the warrantless surveillance program which was eventually overturned by Congress. Other Kavanaugh e-mails concern the Patriot Act, CAPPS II (passenger profiling), Fusion Centers (government surveillance centers), and the Privacy Act.
EPIC Obtains Records about DHS "Media Monitoring" Program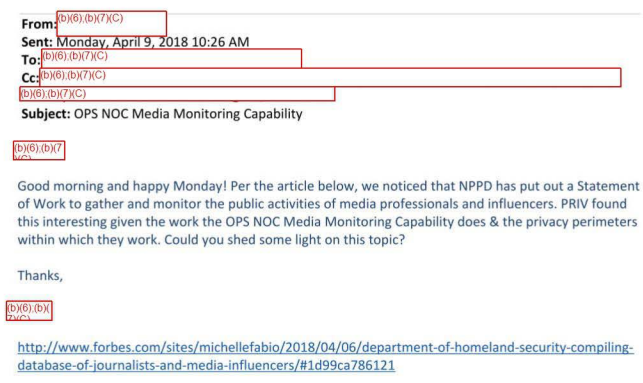 As a result of Freedom of Information Act lawsuit EPIC v. DHS , EPIC received records from the Department of Homeland Security about "Media Monitoring Services," a controversial DHS project to track journalists, news outlets, and social media accounts. The documents show that the agency bypassed its own privacy officials and ignored the privacy and First Amendment implications of monitoring the coverage of particular journalists of a federal agency. The records also show that the DHS Privacy Office learned of this program through news media reporting, rather than internally from the agency.
EPIC Obtains Secure Flight Documents About Travel Blacklists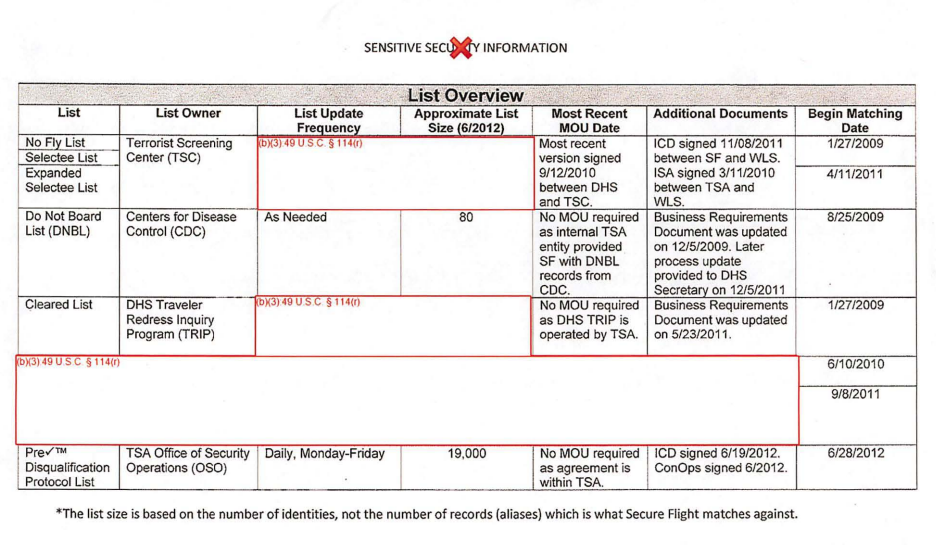 As a result of EPIC's Freedom of Information Act request, the Transportation Security Administration released documents about Secure Flight, a program that compares airline passenger records with various watch lists. The documents provided to EPIC contain an interagency agreement between the TSA and Customs and Border Protection, as well as related documents about Secure Flight. Notably, of the documents include a table revealing, for the first time, the number of people on two or more obscure travel blacklists.
EPIC Obtains Communications Revealing DHS Collaborated with Presidential Election Commission on Voter Data Collection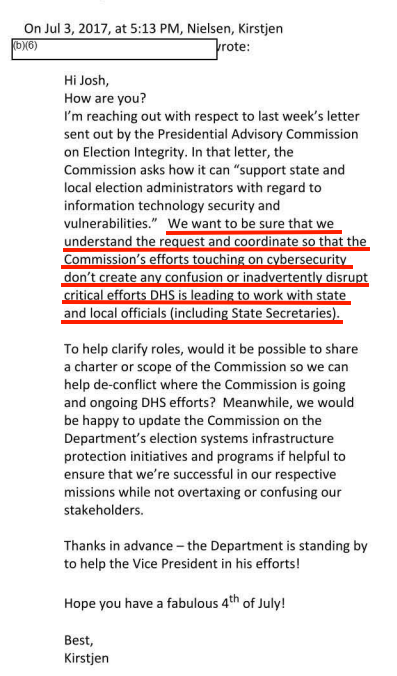 Through a Freedom of Information Act request, EPIC received communications between the Department of Homeland Security and the now-defunct Presidential Advisory Commission on Election Integrity that reveal the DHS had numerous communications with Commission staff beginning in June 2017. These communications occurred after EPIC filed a lawsuit to block the Commission's efforts to obtain state voter data. The records show that DHS Secretary Kirstjen Neilson worried that the Commission's voter data grab would "disrupt critical efforts DHS is leading to work with state and local officials" on election cybersecurity.
EPIC Obtains Information About AT&T "Hemisphere" Records, Reveals FBI and CBP Can Access These Records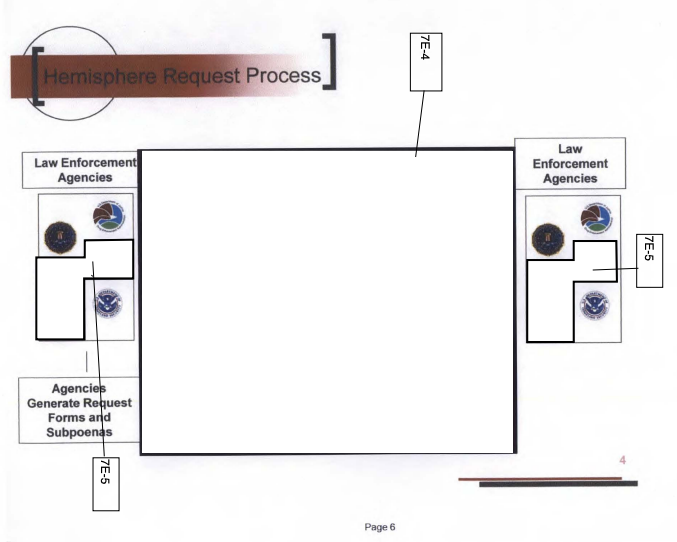 As a result of the Freedom of Information Act lawsuit EPIC v. DEA, EPIC received records from the Drug Enforcement Agency about the AT&T "Hemisphere" program. The "Hemisphere" program is a massive call records database available to government agents made available by AT&T, one of the nation's largest telecommunication companies. AT&T discloses to the government billions of detailed customer phone records, including location data, without judicial review. These record reveal that both the Federal Bureau of Investigation and Customs and Border Protection obtained access to these call records.
EPIC Obtains DHS Pre-Election Assessment on Threats to U.S. Election Infrastructure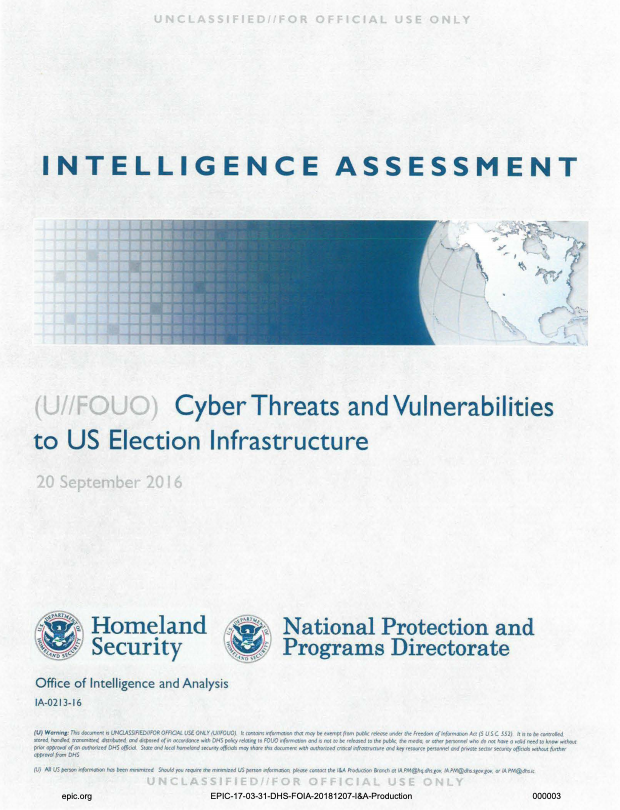 In response to Freedom of Information Act lawsuit EPIC v. DHS, the Department of Homeland Security released documents that include a pre-election assessment on threats to U.S. election infrastructure. The report titled "Cyber Threats and Vulnerabilities to US Election Infrastructure," issued before the 2016 presidential election, stated that the agency had no indication that adversaries are planning cyber operations against U.S. infrastructure that would change the outcome of the presidential election. The DHS report also stated that a successful widespread cyber operation against US voting machines would require "a multiyear effort with significant...resources available only to a nation state" but this level of level of effort "would make it nearly impossible to avoid detection."
In EPIC v. IRS, Appeals Court Rules IRS 'Misunderstands' FOIA Obligations, but Trump's Tax Returns Still Withheld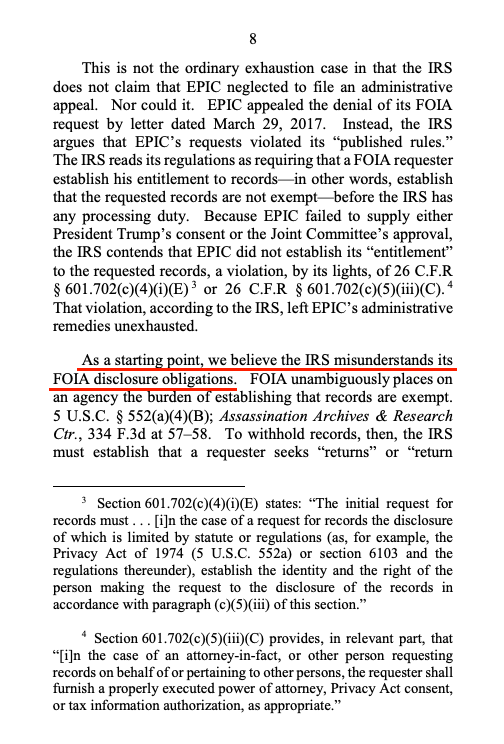 In Freedom of Information Act lawsuit EPIC v. IRS, the D.C. Circuit ruled that the IRS "misunderstands its FOIA disclosure obligations." This is one of two EPIC cases filed to obtain public release of President Trump's tax returns. EPIC argued that the IRS has the authority, under a legal provision known as "(k)(3)," to disclose the President's returns to correct numerous misstatements of fact concerning his financial ties to Russia. For example, President Trump falsely tweeted that "Russia has never tried to use leverage over me. I HAVE NOTHING TO DO WITH RUSSIA - NO DEALS, NO LOANS, NO NOTHING." It has been well documented through news outlets and in Special Counsel Mueller's investigation that President Trump had ties to Russia. Although the D.C. Circuit ruled that EPIC could not compel the IRS to use "(k)(3)," the Court rebuked the IRS for "disregard[ing] the plain statutory text" of FOIA and held that EPIC's request was wrongly "met with a closed door."
EPIC Obtains CBP Drone Operations and Privacy Directive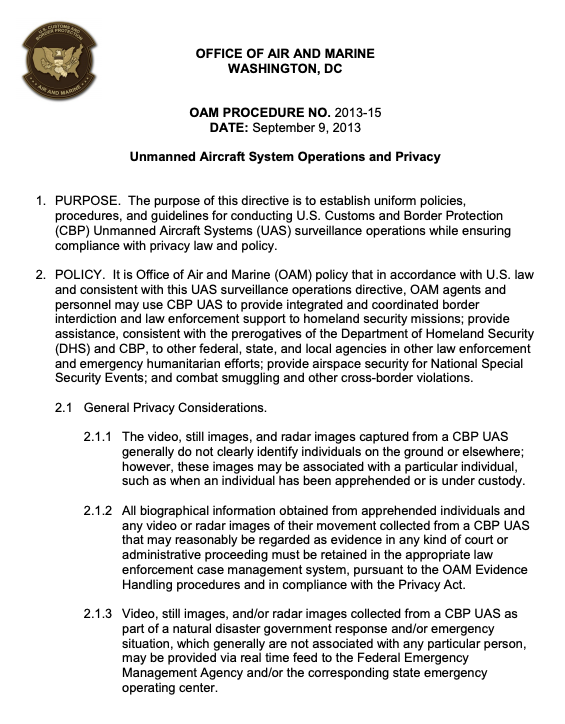 As a result of Freedom of Information Act lawsuit EPIC v. DHS, EPIC obtained a Customs and Border Protection's directive on Unmanned Aircraft System Operations and Privacy. The directive allows the agency to disseminate information collected through drone operations with federal, state, local, tribal, and foreign law enforcement agencies. The lawsuit stems from a 2015 Presidential Memorandum that requires all federal agencies to develop and publish policies and procedures that address the privacy, civil liberties, and civil rights issues posed by the use of drones.
EPIC Obtains Documents About Decision to Add Census Citizenship Question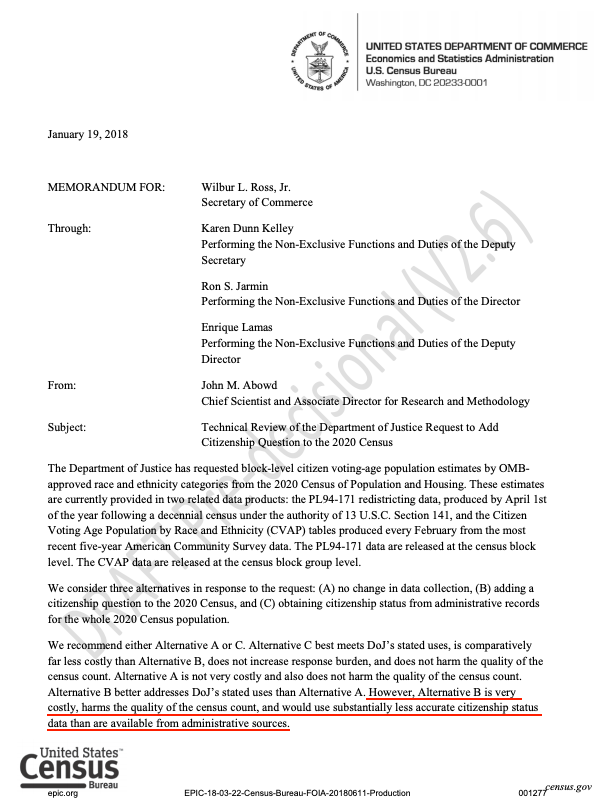 In response to EPIC's Freedom of Information Act request, EPIC obtained documents (part 1, part 2, part 3, part 4) considered by Commerce Secretary Wilbur Ross to add a citizenship question to the 2020 Census. Following a request from the Department of Justice, the Census Bureau announced that it would ask about citizenship status for the first time in over 50 years. The documents obtained by EPIC, and others who made similar requests, reflect the varying opinions from lawmakers, scientists, and immigration groups about the proposal. The documents also reveal that Kris Kobach, former Vice Chair of the now-defunct Presidential Advisory Commission on Election Integrity, urged Secretary Ross "on the direction of Steve Bannon" to add the citizenship question. According to an analysis conducted by the Census Bureau, the impact of asking about citizenship would be "very costly, harms the quality of the census count, and would use substantially less accurate citizenship data than are available" from other government resources.
Share this page:
Subscribe to the EPIC Alert
The EPIC Alert is a biweekly newsletter highlighting emerging privacy issues.